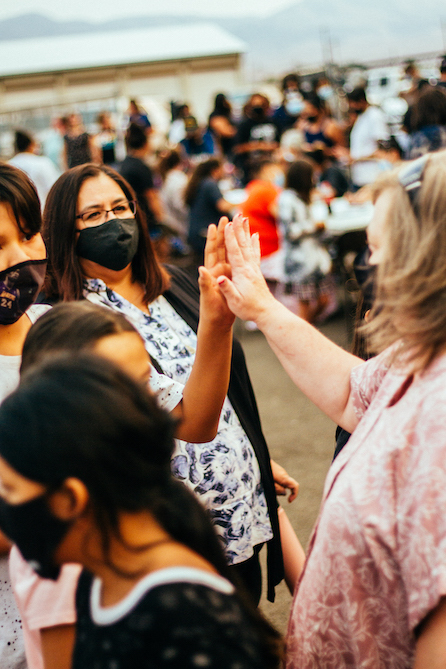 Summer Jam Brings Community Together for Food and Fun
Aug 25, 2021
On Wednesday, August 18th, the White Swan community gathered at the high school track for Summer Jam 2021.
Mt. Adams School District Board President, Larry Garcia, and his wife, Avelina, cooked up 200 hamburgers and 200 hot dogs, and emcee Christina Cordova kept the crowd entertained as community members visited the booths of fifteen of our partners. Also on site were officers from the Yakama Nation Tribal Police, Yakima County Sheriff's Office, and the Washington State Patrol.
During the event, White Swan Arts and Recreation gave out 100 cleaning kits, the Community Coalition gave out 36 drug lock boxes, and the Dream Makers gave out 95 Above the Influence face masks. The Mt. Adams JOM Committee raffled off a number of prizes–including a basketball and $25 gas cards–and everyone had the opportunity to be entered into a raffle for a $50 gas card.
The event was made possible by generous donations from Washington Beef, Molina Health Care, and the White Swan Trading Post, and by the valued participation of our community partners:
Aspen Victim Advocacy Services
Molina Health Care
Mount Adams JOM Committee
Mount Adams Migrant Education Program
Northwest Justice Project
Rod's House
Washington State Patrol
Yakama Nation Healthy Transitions Program
Yakama Nation Higher Education Program
Yakama Nation Nak-Nu-We-Sha Program
Yakama Nation Native Connection Program
Yakama Nation Problem Gambling Program
Yakama Nation Systems of Care Program
Yakama Nation Tiináwit Program
Yakama Nation Tribal Police
Yakama Nation Victims Resource Program
Yakama Nation Youth Treatment Program
Yakima County Sheriff's Office