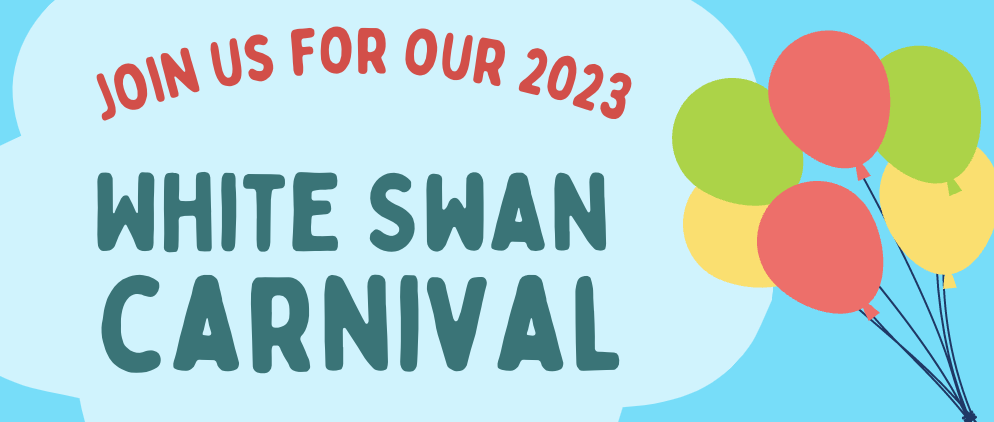 White Swan Carnival
Apr 26, 2023
Please join us at our White Swan Carnival!
The purpose of the carnival is to spread awareness about youth mental health and substance use while offering community members a barbecue, popcorn, information from community partners, and access to fun games and activities, including

a target game with sticky animals,
a bean bag toss,
a water balloon toss,
a three-legged race,
a balloons on a dart board game,
a tug-of-war game,
face painting,
a popcorn machine,
a hula hoop contest,
a pool with rubber duckies activity,
a mini-basketball hoop game,
a shaved ice machine,
a coloring picture contest,
and more!
Thank you to all our partners for your support!
Aspen Victim Advocacy Services
College Success Foundation
Grupo 24
Heritage University's High School Equivalency Program (HEP)
Molina Health Care
Mt. Adams School District Board of Directors
Mt. Adams School District Migrant Education Program
Northwest Justice Project
Peacekeeper Society
Ramsey Companies
Triumph Treatment Centers
Washington Beef
Washington State Patrol
White Swan Arts & Recreation Committee
White Swan Dream Makers
Yakama Nation Fire Management
Yakama Nation Library
Yakama Nation Problem Gambling Program
Yakama Nation TERO Program
Yakama Nation Youth Treatment Program
Yakima County Fire District #5
Yakima County Sheriff's Office
YWCA Yakima